Plastic is an integral part of our daily lives, from the products we use to how those products are made and transported to us. Depending on the ultimate use, one type of plastic might be more beneficial than another; each type has its own unique properties that make it best suited for a given application.
While HDPE is one of the most commonly discussed polyethylene products in the industrial space, other plastics are viable options as well. United Poly Systems offers a full line of plastic pipe—including MDPE, HDPE, and polyamide —to suit any application.
Different types of polyethylene
Polyethylene is categorized by density and molecular structure, and each property affects the material's strength and elasticity. For instance, low-density polyethylene (LDPE) is softer and more flexible than HDPE, and it is more transparent. Consequently, it is often used for grocery bags, plastic wrap and film, flexible packaging material, and injection molded parts.
High-density polyethylene (HDPE) is much stronger and more durable. It's impact resistant and can handle exposure to chemicals or harsh environmental conditions without degrading. Because of this, it's commonly used for pipe systems, storage or chemical containers, plastic bottles, and other materials.
Medium-density polyethylene (MDPE) is a middle-ground, offering a mix of characteristics found in both LDPE and HDPE. Like HDPE, it is resistant to corrosion or chemical degradation, and it has much of the flexibility of LDPE. It is well-suited for pipes and fittings, shrink film, packaging film, carrier bags, and screw closures.
MDPE for gas transmission
This flexible and extremely durable option is a lower-cost alternative to HDPE. It is produced using the same process and equipment as standard HDPE pipe, which ensures reliability and product integrity. In addition, it is manufactured in accordance with ASTM D2513 standards for hydrostatic burst strength, chemical resistance, and rapid crack resistance of polyethylene pipe, tubing, and fittings. Because it is particularly resistant to slow crack growth and rapid crack propagation, MDPE is a great option for all external, underground gas and propane use, including utility gas transfer, residential plumbing gas transfer, and propane transmission.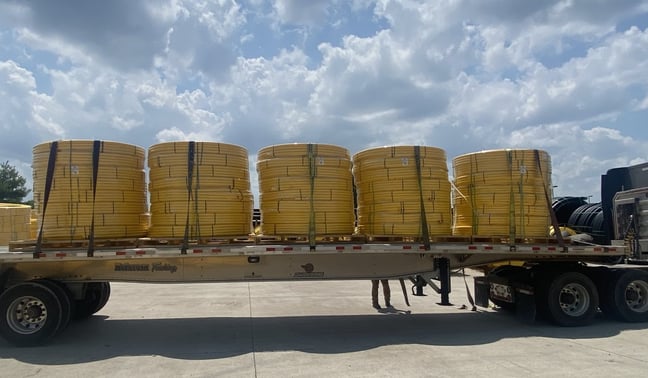 United Poly Systems MDPE Shipment
MDPE is part of United Poly's Stream-Line™ product suite, which was specifically designed to support the needs of the energy industry. Beyond the applications already noted, MDPE is a particularly good choice for medium-pressure gas transmission for pressures between 0.5 psi and 5 psi.
PA 12 (polyamide) for regulated gas transmission
Polyamide 12 (PA 12) pipe is lightweight, flexible, and easy to install. It is manufactured from Evonik Vestamid polyamide material, and it meets—or exceeds—the applicable test standards listed in ASTM F2785-18a, including resistance to crack propagation, slow crack growth, outdoor storage stability, and chemical resistance.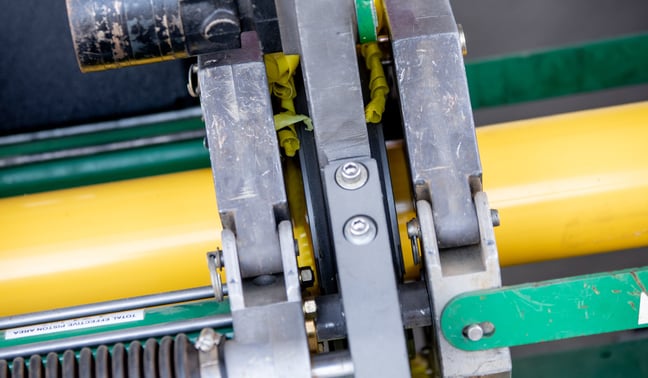 Close-up of PA 12 fusion
Like polyethylene, polyamide material is made of polymers. Polyamide materials are made of repeating units of polymers linked by amide bonds—common examples include fabrics like wool, nylon and silk. It can be used at higher operating pressures than polyethylene, withstands higher temperatures, and presents little-to-no risk of permeation.
Similar to MDPE, PA 12 is also part of United Poly System's Stream-Line suite for applications in the oil and gas industry. Because it is so lightweight, delivery and installation are easy even in remote or difficult-to-access wellsite locations. PA 12 is also able to withstand operating pressures up to 250 psi, making it an extremely smart solution for safe gas distribution lines, and its crack resistance reduces the likelihood of leaks.
PA 12 is commonly used for natural gas transmission for cities and municipalities, wellsite applications, cross-country transmission lines, and regulated gas distribution operations. For operators beginning to review their gas line infrastructure and pipe performance as updated guidance comes out from PHMSA, PA 12 is a smart choice. It complies with all PHMSA requirements for regulated gas distribution operations, and it is compliant with all standard joining techniques designed for use with polyamide.
About United Poly Systems
United Poly Systems produces quality HDPE pipe in diameters from ¾-in. to 26-in. IPS, 4-in. to24-in. DIPS and ¾-in. to 2-in. CTS for use in several markets, including energy, power and communications, renewables and water infrastructure. The market for HDPE pipe continues to expand as initiatives to improve, repair and expand the country's infrastructure are implemented.
Our off-the-shelf HDPE pipe is available in a variety of sizes, colors, dimensions and lengths, with or without stripes. We also offer fully customizable HDPE conduit options. In addition, piping can be customized with a ribbed interior (to maximize the distance cable may be pulled or jetted), pull tape, or a lubricated interior (for easier installation). Our success can be attributed to our vast experience, extensive client relationships and state-of-the-art manufacturing and quality processes. Our agile business model allows us to quickly meet customers' needs without the overhead expenses incurred by many of the larger producers in the industry.
Conveniently located in Springfield, Missouri, and Albuquerque, New Mexico, United Poly Systems can provide quick delivery to a majority of the U.S. market.