Since its creation almost 70 years ago, HDPE piping and conduit has become the preferred material for applications in the power and communications industry.
High density polyethylene (HDPE) conduit is a flexible and versatile product well suited for the power and communications industry. Specific applications include telecommunications lines, casing power lines, fiberoptics and standard cable.
Considering the number of unique HDPE conduit applications and product offerings available to the industry today, many consumers, engineers and designers might not know the HDPE conduit traces its roots from the famous and still popular hula hoop fad from the 1950s. While used for centuries by children and adults alike, the hula hoop craze did not take off until 1958, when mass production from plastic began.
Brief History of HDPE Conduit
The American Chemical Society article Discovery of Polypropylene and High-Density Polyethylene outlines milestones made along the journey which included Phillips Petroleum researchers Paul Hogan and Robert Banks developing the process for making HDPE in 1951. In 1954 Phillips Petroleum commercially introduced HDPE under the brand name Marlex. The company stockpiled Marlex until the hula hoop craze eventually consumed Phillips' stockpile of Marlex and plant output for six months.
While numerous refinements and enhancements have been made during the last seven decades, it is worth going back to the original hula hoop design to envision a solution to many of today's piping challenges.
According to the Plastic Pipe Institute Inc. (PPI), the major trade association representing all segments of the plastics piping industry,
"High-density polyethylene (HDPE) conduit is the preferred material to house and protect electrical power and telecommunications cables within."
Why HDPE Conduit?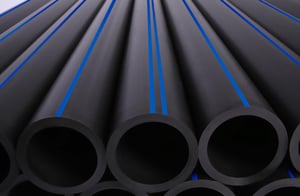 PPI notes that HDPE pipe offers unmatched corrosion and chemical resistance, is flexible, durable and available in long reel lengths to reduce the number joints and speed up installation time. In some applications, HDPE conduit may be bent—reducing, or eliminating, the total number of fittings.
HDPE conduit can be supplied on spools or coiled, reducing transportation cost and decreasing installation time. Common installation methods include directional drilling, trenching, micro-trenching, and plowing.
About United Poly Systems
United Poly Systems produces quality HDPE pipe in diameters from ¾-in. to 26-in. IPS and 4-in. to 24-in. DIPS for use in many industries including telecommunications, power utility, water, electrical and oil and gas. The market for HDPE pipe continues to expand as initiatives to improve, repair and expand the country's infrastructure are implemented.
Our off-the-shelf HDPE conduit/pipe is available in a variety of sizes, colors, dimensions and lengths, with or without stripes. We also offer fully customizable HDPE conduit options. In addition, piping can be customized with a ribbed interior (to maximize the distance cable may be pulled or jetted), pull tape, or a lubricated interior (for easier installation).
Success at UPS can be attributed to our vast experience, extensive client relationships, state-of-the-art manufacturing and quality processes. Our agile business model that allows UPS to quickly meet customers' needs without the overhead expenses that are incurred by many of the larger producers in the industry.
Conveniently located in Springfield, Missouri and Albuquerque, New Mexico, United Poly Systems can provide quick delivery to a majority of the U.S. market.