One of the advantages UPS brings to HDPE fabrication is the ability to ship the completed package in three different options: coils, reels or straight line, knows as 'sticks.' The shipping option will depend upon application, installation method and pipe sizing.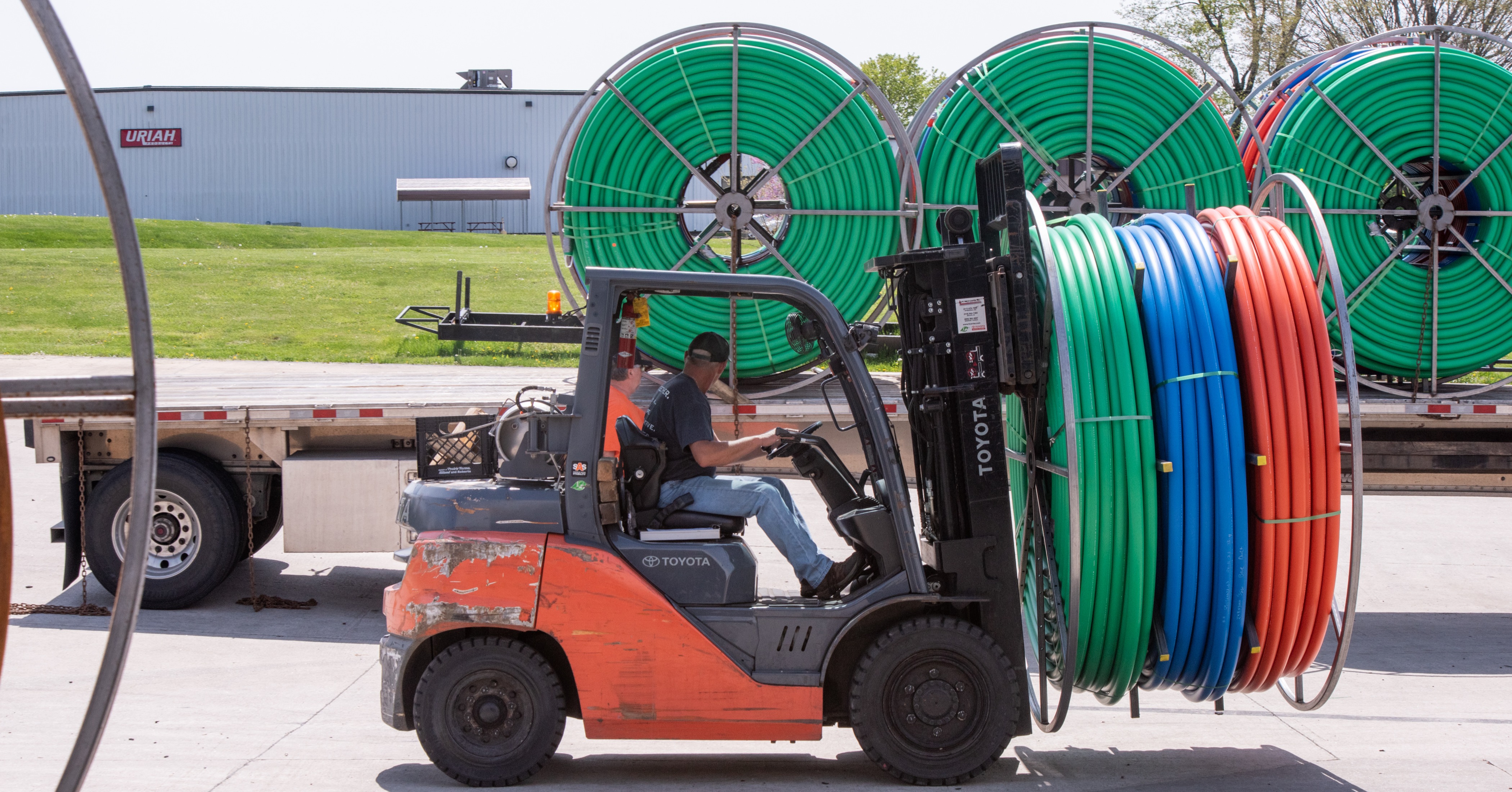 Once the extrusion process is complete, the cut and inspected pipe is made ready to ship on either coils, reels or straight-line sticks.
Coils: Coiling machines wrap the extruded pipe. The coilers have paddles on the end that can hold the pipe to itself, forcing it to wind onto a coil without an inner core of any kind. Once the coil is complete, it is banded and removed from the machine. Coils can be placed upright for shipment or laid horizontally for palletized packaging.
Reels: The reel process is similar to the coil process, except a large metal reel is slid onto the coiler and then physically attached to the pipe. The pipe wraps around the reel. When complete, the reel is banded, removed from the coiler, set aside, and another reel placed on the coiler.
Straight Line or 'sticks' The straight stands of pipe are cut to length, positioned onto pallets, and banded for shipment.
HDPE pipe six inches or smaller in diameter is best suited for packaging on coils and reels because of the allowable bending radius. The following cannot be coiled due to thin walls: 4-in. SCH40, 5-in. SCH40, 6-in. SCH40, and SCH80.
UPS uses 48-inch-wide reels. To minimize ovality in general, UPS uses graduated reel/coil drums. Straight line pipe is generally packaged in diameters of three inches or greater, horizontally. Since it lays flat, straight line pipe is at far less risk to buckling and ovaling.
Shipping methods
Once the pipe is secured in the appropriate package (coils, reels or straight line) it is ready for shipping. Before the material is shipped, the entire order is checked to ensure there are no imperfections and that the entire order was fulfilled.
The main transportation option for HDPE pipe is via truck. There are three types of truck delivery: flatbed delivery, LTL (less than truckload) deliveries, or a hotshot delivery with a single carrier for fast delivery. Choosing one of these delivery options will be based on delivery needs, pipe selection and cost.
It is critical there is confidence in your carrier. UPS has relationships with several top carriers that deliver on time, take care of the load, and provide exceptional service when unloading the product. UPS can also deliver to multiple project locations to expedite project work.
Loading and unloading
Care must be taken to ensure HDPE piping is always safely loaded and unloaded mechanically. During transit, delivery drivers check strappings frequently to ensure piping remains secure. Chain or wire is never used to load or unload HDPE pipe. Instead, only lifting forks that are rounded or sleeved are used to move piping. Straight line pipe should only be unloaded from the top down, while coil and reel pipe should be unloaded from the front to the rear of the transport trailer. HDPE piping should never be exposed to extreme temperature or physical pressure (a common result of improper load stacking).
The United Poly Systems logistics managers are encouraged to maintain open lines of communications between shipping and receiver or the customer. Customers can reach out directly to the logistics managers at either United Poly Systems location about the status of their order. In addition, our drivers will also contact customers to advise that shipments are in transit to ensure deliverability.
About United Poly Systems
United Poly Systems produces quality HDPE pipe in diameters from ¾-in. to 26-in. IPS, 4-in. to 24-in. DIPS and ¾-in. to 2-in. CTS for use in many industries including telecommunications, power utility, water, electrical and oil and gas. The market for HDPE pipe continues to expand as initiatives to improve, repair and expand the country's infrastructure are implemented.
Our off-the-shelf HDPE conduit/pipe is available in a variety of sizes, colors, dimensions and lengths, with or without stripes. We also offer fully customizable HDPE conduit options. In addition, piping can be customized with a ribbed interior (to maximize the distance cable may be pulled or jetted), pull tape, or a lubricated interior (for easier installation).
Success at UPS can be attributed to our vast experience, extensive client relationships, state-of-the-art manufacturing and quality processes. Our agile business model that allows UPS to quickly meet customers' needs without the overhead expenses that are incurred by many of the larger producers in the industry.
Conveniently located in Springfield, Missouri and Albuquerque, New Mexico, United Poly Systems can provide quick delivery to much of the U.S. market.